Transportable Homes Explained
We are the ONLY mortgage broker in Australia that specialises in Transportable homes!
---
What is a transportable home?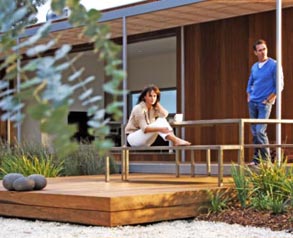 Transportable homes are houses built in a factory instead of being built on site. Typically they are constructed from wood, steel, gyprock, vinyl weatherboard and other materials which are not damaged during the moving process. Unlike a site built home, factory built homes are usually not built from bricks or concrete.
Not to be confused with mobile homes, transportable homes are permanent once delivered to site, stumped and connected to utilities. Portable versions of transportable homes are usually referred to as manufactured homes or relocatable homes and are situated in communities called manufactured home parks where the residents lease the land and own the house. Although relatively permanent these houses could be moved far more easily than a large country homestead.
Transportable homes go by several different names depending on what they are intended to be used for and which builder you speak to. They can also be referred to as modular homes, relocatable homes, prefabricated homes or factory built homes. In the USA they are commonly referred to as either single-wides or double-wides depending on if they can be transported to site in one section or two.
How do transportable homes compare to site built homes?
The advantages of factory built homes over a site built homes are mainly to do with the cost and the time required to complete the construction project. They also offer other benefits such as being more environmentally friendly to build and being able to be built in areas with labour shortages such as mining towns.
The main disadvantages of transportable homes are that there is less design flexibility compared to a site built home and that they may be more difficult to finance. In the last ten years as technology has advanced complex and personalised architectural designs have become more common allowing luxury homes to be constructed using factory built modules.
All high quality home builders are members of the HIA no matter if they are building using traditional on site methods or prefabricating the homes in a factory.
Where in Australia are transportable homes used?
Regional & rural areas tend to have taken up transportable housing faster than their city counterparts. This is partly because transportable homes wouldn't really fit in as well in some city suburbs, however it is predominantly because it is far easier & cheaper to build a transportable home in a regional area than it is to built a site built home.
In the last five years there has been significant demand for housing in rural areas thanks to the mining boom. As people rush to small country towns and the supply of accommodation runs low, developers move in to capitalise on the rising demand.
The cost of building materials and labour in these towns forces the developers to look for alternative solutions to the traditional site built home. In these situations transportable homes quickly fill the gap with their lower cost and shorter construction time.
The most popular areas for transportable homes have been the NSW Central Coast, NSW North Coast, South East QLD and growing regional towns across Australia. Queensland and Western Australia have had significant growth since 2001 in the number of factory built homes being used for mining accommodation.
What types of transportable homes are there?
Gone are the days of generic low quality housing, modern transportable homes come in all shapes and sizes. Ranging from cabins, granny flats and minor extensions through to full blown multi-storey houses and even in some cases apartment blocks!
The majority of homes built for the regional market range from one to three bedrooms with a kitchen living room and possibly a garage. Innovation has only been limited by what can be delivered to site on a hydraulic trailer with contemporary styles available from most builders Australia wide. It is quite common to see designs including attics, balconies, verandahs and high end finishes for the kitchen and living areas such as smeg appliances and double glazed windows.
Most builders will happily modify their designs to suit your needs or your budget. The interior of the home is quite easily customised and there may be some design flexibility with the floor plan, roof pitch and your choice of either steel or wooden frame.
Prebuilt and Transportable homes must comply with the same sustainable housing energy ratings as any other home so there may be less design flexibility in this department. Builders such as Kentucky Napier, Timberline, Allsteel, Domus Victa & Oasis homes all have their own unique designs and styles that you can match with your lifestyle.
How much do transportable homes cost?
Due to the production line style of factory construction and bulk purchasing of materials most builders are able to build at a significant discount when compared to site built homes. Granny flats and cabins range from around $30,000 to $80,000 depending on the quality of finishes and size of the building. Mobile or portable home variations also tend to be in this price range.
Luxury three bedroom plus study homesteads designed for rural retreats can cost as much as $300,000. Your builder's quote should include other possible costs such as site works, utility connections, architects fees and council or DA costs. Please note that in some cases this work is completed by your own contractors instead of the builder in which case it will not be included in your quote. In Queensland and Western Australia you may be required to provide a council bond which is refunded when construction is complete.
How long do they take to build?
The specialist builders range in size from mum and dad operations through to large companies listed on the stock exchange. All builders are required to have a license and comply with the relevant state Home Warranty Insurance (HWI) or equivalent legislation. You can find the builders for NSW, QLD, VIC, SA and WA in our Transportable Home links section.
Applying for a loan
STOP! If your bank manager has told you that nobody finances transportable homes then read on…
Transportable homes require specialist finance advice because there are only a handful of lenders that are open minded enough to accept them as security for a loan. Many banks have out of date lending guidelines and will only release funds from your mortgage when the house is complete and some even then only take the value of the land into consideration.
Other lenders are far more open minded and are able to release funds prior to completion using either equity in the land, other properties or even support from a friend or family member acting as a guarantor using their house as security.
We can quickly determine if you are eligible and then find you the cheapest loan on the market because we are the only mortgage broker in Australia that specialises in financing transportable homes.
We have created a web page explaining the transportable home lender guidelines to help you quickly determine your ability to borrow money. Please also read about our no deposit guarantor loans for first home buyers and our competitive equity loans for those of you with equity in the land or other properties.