Relocatable home loans
Relocatable homes or removal homes differ significantly from their manufactured & transportable cousins. Removal homes are usually quality second hand houses that can be moved to a new site.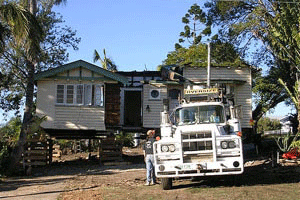 If a home owner needs to demolish their house, they may be able to recycle it instead by selling it to a new owner. Homes for removal are generally sturdy older homes with timber platform floors which can be transported without damaging the structure.
Several companies such as Drake Homes &amp
in South East QLD specialise in selling, renovating and moving second hand homes.
Mortgages for your house relocation project
Chances are that you will have to pay for your new home before it leaves the vendors land. You may also need to pay for site works, utility connections and for removal fees all before the house is complete. Unfortunately the majority of banks do not release funds for removal homes until they are complete, on site and have a certificate of occupancy.
We are the ONLY mortgage broker in Australia that specialises in relocatable homes! If you have equity in your land or another property then we can fund your project using one of our market leading equity loans. If you have no deposit or are a first home buyer then you can fund your property using one of our simple guarantor loans.
Where to from here?