Transportable home loans
Transportable homes are built in a factory before being delivered to site by a truck in one or more sections. Once on site they are permanent structures just like any other house. Most lenders don't understand transportable homes, we know what you need and can quickly tell you if you qualify for a mortgage or not. We are the ONLY mortgage broker in Australia that specialises in Transportable homes!
The term transportable home has also been used to describe temporary dwellings or houses that can be moved easily. This type of building is more difficult to finance as home loan lenders consider them to be vehicles and vehicle loan lenders consider them to be houses! If the transportable house you are building is not permanent then contact us to discuss your options.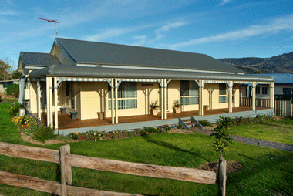 This method of construction offers significant benefits over traditional site-built homes and has become widespread in NSW, QLD, SA & VIC.
In particular transportable homes can be built faster, are less affected by bad weather during construction and can be cheaper because of the production line style construction method.
Depending on the type of house you are building, the location of the land and your equity position you may be able to release funds to the builder prior to the house being on site. Refer to our Transportable Homes Explained page for more information about transportable homes and their uses.
What types of loans are available?
Most transportable home builders require that you pay for most of the home before it is on site and complete. Unfortunately most banks refuse to release payment until the house is complete! If you have equity in your land or another property then read about our cheap equity loans. If you are a first home buyer or have very little equity then you may need one of our guarantor loans.
Where to from here?