Manufactured home loan? APPROVED!
Manufactured homes are factory built homes delivered by truck instead of being built on site. They are predominantly permanent structures built in regional areas by companies such as Timberline Homes, Colles Homes or Halley Homes. Contact us for a list of other companies that build manufactured homes. We are the ONLY mortgage broker in Australia that specialises in Manufactured homes!
Manufactured home loans are readily available for houses that are permanent and on Freehold, Torrens or Strata title land.
Manufactured homes on a normal block of land
If you are building a manufactured home on a normal block of land then we can help you finance your property. Your builder will require the majority of the drawdown funds before your house is complete and on site. However lenders do not release funds until the house is complete!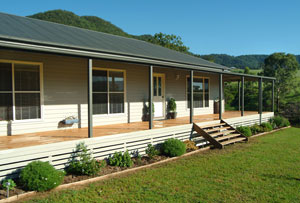 If you have equity in the land or another property then please enquire about our market leading equity loans.
If you have little or no equity then you can finance your home using a guarantor loan.


Manufactured home parks / caravan parks
Some manufactured houses are used in manufactured home parks, caravan parks or over 50′s villages where the buyer owns the house and leases the land under a site agreement. Currently we are unable to finance these types of properties unless you have a guarantor or other real estate security – no lender can accept them as security for a mortgage.
Where to from here?