Modular home loans Australia wide!
Modular homes are factory built homes delivered by truck to the building site. Although there are a wide variety of different construction methods, modular homes are most often built & transported in several sections, which gives rise to their name.
Modular home loans & factory built home loans are available for permanent houses while other financing methods can be used for houses that are temporary, mobile or that are not fixed to site.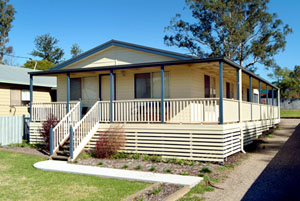 The flexibility to add, customise and arrange modules allows you to create designs as elaborate as those used in traditional construction. Modular buildings are flexible enough to be used for residential housing as well as commercial premises, schools and mining buildings.
Modular houses are predominantly permanent structures used in regional areas where this construction method is far more economical then traditional construction. Builders using this method include Timberline Homes, Modscape and Parkwood homes.
Financing your Modular Home
Those of you with equity can use one of our market leading equity loans to fund your project. If you are a first home buyer or if you don't have a deposit then you can use one of our no deposit guarantor loans. These loans allow you to have the mortgage funds released prior to the completion of the house. We are the ONLY mortgage broker in Australia that specialises in Modular homes!
Where to from here?